Why USA Visa Thailand ?
USA Immigration and Visas
from the Kingdom of Thailand
The K1 Fiance Visa
The CR-1 Visa
The IR-1 Visa
The K3 Visa
Information Regarding the USCIS District Office in Bangkok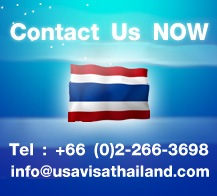 US Visa Lawyer Thailand
Many people who wish to immigrate to the United States often seek the advice and counsel of a US Immigration lawyer. An American Immigration Lawyer can be quite helpful in assisting with both the preparation of documentation as well as presentment at diplomatic posts and United States Citizenship and Immigration Services (USCIS).
In Thailand an American Immigration lawyer can be helpful in preparing and submitting a Thai fiancée or wife's Us visa application and submitting it to the USCIS office with jurisdiction over the residence of the United States Citizen petitioner.
During the processing of a US Visa application from Thailand a US Visa Lawyer may be most helpful in preparing a Thai fiancée or wife for the US visa interview at the American Embassy in Bangkok. This can be one of the most nerve wracking phases of the process particularly for the Thai fiancée or spouse because many Thais are afraid of the interview. In most cases the interview is the pivotal moment that will determine whether or not a couple will get a fiancé or marriage visa. A US Immigration Attorney can assist by preparing the fiancé or spouse for possible questions that may arise during the interview and also by preparing the affidavit of support and supporting documentation that the couple will need in order to prove that they are in fact in a bona fide relationship.
There are many people representing themselves as a "visa agent" or "immigration consultant," in point of fact only a licensed attorney is generally entitled to represent a client in front of USCIS. Currently the staff of the United States Embassy in Bangkok, Thailand will only speak with the Thai fiancée or wife on the date of interview. However, the Embassy will only permit licensed members of the bar in the United States to present follow up documentation (sometimes referred to as 221g requested evidence). Therefore, it can be a real boon to a Thai-American couple to retain a US Immigration Attorny in Thailand because by doing so, a great deal weight is lifted from the Thai fiancée or spouse's shoulders.
When it comes to waivers of grounds of inadmissibility, only a licensed attorney may represent a client before USCIS. Also, it is wise to retain a visa and immigration lawyer because only an experienced attorney can craft thoughtful and well reasoned arguments in front of the Immigration Service.
Contact Integrity Legal at [email protected] for more information regarding the USA Visa Lawyer Thailand.